Crating
Fetter Logistics offers custom skid and crating building as well as a comprehensive warehousing and storage suite of services to better assist our customers with their supply chain. We package all types of equipment for safe transit across the country or around the world. We work with you to find the packaging solution that matches your equipment, the journey and the budget. Our packaging professionals pay close attention to the dimensions and weight of your equipment to ensure that the equipment will fit inside trucks, containers and cargo planes. Our designs can also include inspection windows, special lifting mechanisms, unloading ramps and many other types of special features.
It is usually more efficient to bring your equipment to our packaging facility in Roberts, WI; however, sometimes the equipment is just too big to move. In those circumstances we will bring our team and equipment to you. We regularly travel to pack equipment, and to supervise packaging projects.
If your equipment pushes the limits in size and weight we have the experience to handle the details for you. In addition to designing and building a packaging solution, we can coordinate specialty transportation equipment at your facility to load and transport your machine. Shipping your product inside an ocean container instead of as a loose piece can save you thousands of dollars and shorten your transit times, but sometimes it all comes down to a fraction of an inch. We will work with you and your engineers to ship your equipment in the most cost effective and safe manner possible both domestically and internationally.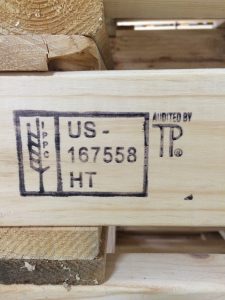 Fetter Logistics is an ISPM-15 certified facility. ISPM-15 is the international standard for heat treated and fumigated wood products. All products manufactured at Fetter Logistics are certified for export worldwide. For reference the ISPM-15 standard and country regulations follow. Contact a Fetter Logistics representative today for further information or for your next crate/pallet.  Detailed information may be found here.  http://www.tpinspection.com/export-wood-packaging.htm
The ISPM-15 standard allows for two treatment options of wood products:
1. Heat Treatment (HT): Wood packaging material should be heated in a schedule that achieves a minimum core temperature of 56°C for a minimum of 30 minutes. The American Lumber Standards Committee (ALSC) administers the US certification program for heat treatment.
2. Methyl Bromide (MB) Fumigation: The wood packaging material should be fumigated with methyl bromide. The National Wooden Pallet and Container Association (NWPCA) has been tasked by the US Animal and Plant Health Inspection Service to administer the fumigation program.
Dunnage must also be ISPM-15 compliant. The ISPM-15 standard has a specific mark for dunnage. If lumber is cut up for use as dunnage, that lumber should be marked every two feet so at least one such mark will be on all dunnage components.
ISPM 15 requirements apply to all species of coniferous (softwood) and non-coniferous (hardwood) packaging materials